Training at Potomac Riverside Stables
We are fortunate to have several outstanding trainers / instructors of all disciplines who visit our boarding stable to instruct and train with many of our boarders and regularly visiting clients.
We have a very independent and relaxed atmosphere. The riding lessons with instructors and horse trainers are for many different disciplines, which include dressage, hunter jumper, eventing, basic balance seat and flat work, trail riding and for the eventing enthusiast we have plans to build a cross country course.
Several of the trainers specialize in Horsemanship Problem Solving Horse Training. You are welcome to train with whomever you want. You may choose from the many trainers that already come to our facility or you may bring your own trainer. You will never be denied a spot in the arena for we only offer private lessons which will assure you that you will never be crowded out of our arena.
Below are some of the trainers and instructors who visit regularly at our facility located at 17224 Elmer School Rd., Dickerson, Md. (Poolesville).
Trainers and Instructors:
Siobhan Byrne, USDF Bronze and Silver medalist and active FEI competitor, instructs riders and trains horses at Potomac Riverside Stables. She graduated in 2006 with a degree in Philosophy.  
Her business name, "Qualia Dressage," is a nod to her studies in philosophy. Training with Siobhan is Dressage training and instruction with the aim of bring out the very best in every horse and rider.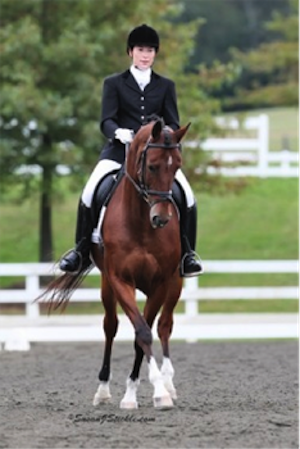 Hilary has worn many equestrian hats: International-level competitor, dressage instructor, event rider, Intercollegiate team member, young horse trainer… 
She is an FEI Competitor, USDF Associate Instructor, USDF "L" Education Program Graduate (judge), USDF/USEF Advanced Young Rider Graduate, Senior Editor at Dressage Today and Member of the PVDA Board of Directors.
Hilary's background makes her a capable and involved coach, for the competitive Junior/Young Rider and the dedicated Adult Amateur. As a U.S. Dressage Federation (USDF) "L" Education Program Graduate and Associate Instructor, Hilary also takes her own equestrian education seriously. She enjoys sharing what she learns as a resident blogger for Dressage Today and frequent contributor to multiple equestrian publications.
She regularly attends the Region 1 Youth Team Championship and Lendon Gray Youth Dressage Festival with students. In 2009, she also coached a Junior student to the CBLM Championship at First Level and a Reserve Championship at Training Level. 
In Hilary's own Advanced Young Rider years, she was nationally ranked every competition season. She is one of the only former Advanced Young Riders to have simultaneously competed at the YR levels of FEI dressage and Prelim eventing. At the same time, she was also a member of Mount Holyoke College's Intercollegiate Dressage Team during their National Championship years.
A Certified John Lyons Trainer who has decades of experience with horses and riders of all disciplines. 
His background is not only in Natural Horsemanship, but also in Western Pleasure, Classical Dressage, and Eventing, so he is able to teach both English and Western students. 
Bob uses gentle natural horsemanship methods to train horses and to teach riders how to get the results they want from their horses. His specialties include: resolving behavioral problems, teaching western pleasure, preparing horses and riders for safe and confident trail riding, and improving any horse's overall athletic performance through a program of dynamic stretching and targeted exercises. 
Bob believes in analyzing each horse's personality and physical ability, and then individually tailoring the training program to what that horse needs. He also believes in teaching his students how to use all of these methods, so that every student can learn how to train their horse and, by doing so, improve their communication and strengthen their bond with their horse.
Kim Murphy is an FEI competitor and trainer who recently competed at Prix St. Georges level. She teaches at "Potomac Riverside Stables" specializing in unlocking entry level competitors' potential to help them achieve their riding goals. She enjoys working with riders of all ages, from beginner to advanced levels, with many types of abilities and backgrounds who have a desire to improve and expand their riding skills. Whether you and your horse wish to learn the basics or to improve your dressage or jumping abilities, Kim can create a plan to suit your horse's needs as well as your goals.
Kim Murphy's education is from the United States Naval Academy, B.S. Engineering, Political Science, Naval Intelligence Officer US Navy, Federal Law Enforcement Training Center, School of Foreign Counter Intelligence. Kim is a well disciplined and successful professional. These distinguishing qualities carry over into her teaching techniques to help the horse and rider achieve success.
USDF  "L" Education Program Graduate (Judge), former associate Editor of Dressage Today magazine.
In her home town of Ontario, Canada, Jessica was on the Young Riders dressage team, she has trained with world-class coaches including Canadian World Cup rider Nancy Melachlan,  "I" judge Lorriane Mc Donald, Olympic rider Lisa Wilcox, and former head of the Spanish Riding School of Equestrian Art Manobo Mendex.
Currently, Jessica and her Oldenberg gelding Belotti train with Dressage at Devon Grand Prix winner, Mary Flood in the Washington, D. C. area.
Jessica has successfully shown and taught hunter jumper, shown in driving, English pleasure and even western classes. Jessica and her horse Sonny were World Champions in English Pleasure in 2001 and World Champions in Parade in 2002.
USDF "R" Judge for many years, trainer and instructor through FEI rides at the Grand Prix level; teaching for more than 30 years and trained and studied under world-renowned European and American trainers.
SAS Sport Horses, owned by Shera Ann Ruben, specializes in re-training off the track Thoroughbreds in Equestrian events. She is also experienced in working with horses and ponies of all breeds dealing with behavioral issues.
Shera, who began riding at the age of 5, attended the Barrie Day School, in Silver Spring, MD, where she participated in the equestrian competition riding program. While attending Virginia Tech, Shera focused on Equine studies. She also earned her personal training certification from the American Council of Exercise, with her primary focus being on rider conditioning.
In the early part of her riding career, Shera received numerous Equitation Hunt Seat ISHA Championships under the direction of Paige Dunn and noted judge, Robyn Wyman. From her success in the Hunter ring, Shera expanded into Dressage, Jumpers, and Eventing. She has trained under the direction of accomplished FEI competitor Vanessa Swartz for Dressage, as well as several well-known Jumper and Eventing East Coast clinicians listed on her website.
Shera began working with Thoroughbreds at a young age and, due to her calm methods of dealing with racehorses off the track, she has had amazing success. This success led to the creation of SAS Sport Horses, and has developed into her training of young horses of all breeds, whether they are just starting out off the track, or are dealing with behavioral issues. Each of her training packages is tailored to the individual discipline and goals of the rider and horse. Shera is an active competitor and coach for all levels of riders in Hunter/Jumper, Dressage and Eventing.
You are welcomed to join the show team, tailor your skills, or just learn to ride on the trail. Feel free to bring your horse to Potomac Riverside to train with Shera and SAS Sport Horses. If you need help buying or selling a horse, Shera is happy to include you in her SAS Sport Horses program.